"I've been using these for quite a while and love the comfort of toe separation. My body feels a sense of ease with walking too!" | Idella Davis, USA
Sale price
$39.99 USD
Regular price
$120.00 USD
Unit price
per
Sale
Sold out
✓ Improve alignment & walk with confidence.
✓ Say goodbye to foot problems & pain.
✓ FULL KIT Recommended for Best Results.
Achieve the body and legs you've always wanted with the BODYFEET Aligners Kit. Our patented treatment utilizes gentle pressure on the toes to encourage the body to shift weight towards the ball of the feet, improving posture and naturally aligning the body and legs without surgery. Experience the benefits of a fit and healthy body after using our proven kit.
INVISIBLE POSTURE CARE -The BODYFEET kit helps correct foot alignment and posture issues by balancing pressure on the feet during walking. The plantaris muscles, which support the body, are stimulated and posture is naturally corrected. By using the two different levels in the kit, you can expect to see results within four months.
BODY SHAPING AND SLIMMING - Wearing the BODYFEET kit increases energy metabolism by activating intrinsic muscles, leading to a reduction in body fat mass and a shaping effect on the body. This effect is amplified when you use the Level 2 Kit during Yoga or gym workouts.
ALLEVIATE LOWER BACK, HIPS, AND KNEES PAIN - The BODYFEET kit helps stabilize the center of gravity in your body and reduces pressure on the hips and lower back, relieving fatigue in the legs. The treatment process promotes correct posture and restores pelvic alignment.
Wearing the BODYFEET Aligners Kit helps improve balance by stimulating the toes and shifting the center of gravity to the ball of the feet. Over time, this helps correct posture and achieve a good body posture.
The pressure of your toes being pressed forward can lead to hammertoes (when the toe becomes bent downward or inward permanently), bunions (a swollen, bony bump that forms on the side of the big toe). If you already have them it gets worse. If you don't have them, they can develop, especially if you have a genetic component. BODYFEET Aligners Kit helps prevent and correct these foot problems.

Pain in the hip, knee, and lower back can often be caused by misalignment in the legs, specifically when the legs are either bow-legged (varus deformity) or knock-kneed (valgus deformity). When the legs are not aligned properly at the hips, knees, and ankles, there is an abnormal distribution of force across the knee, which can lead to pain, cosmetic deformity, and premature knee arthritis. It is important to address these misalignments in order to reduce the risk of these negative consequences.

Surgical correction can be an effective treatment option for leg deformities, but it can also carry the risk of complications. Alternatively, BODYFEET Aligners Kit offers a non-invasive option for realigning the legs, helping to reduce pain, improve appearance, and promote healthy knees. By using this kit, you can continue to engage in your favorite physical activities without the hindrance of discomfort or deformity. We hope to see you walking, running, and participating in a range of physical activities with greater ease and enjoyment.
Getting Fit and Toned
The BODYFEET Aligners Kit can be a powerful aid in achieving your desired body shape and improved posture. It is particularly effective at correcting anterior pelvic tilt, which can cause discomfort and affect overall body alignment. By using the kit, you can improve your foot balance and gait, helping your pelvis return to a natural, pain-free position. Whether you want to enhance your appearance or simply feel better in your own body, the BODYFEET Aligners Kit can be a valuable resource.
The BODYFEET Aligners Kit can help improve energy metabolism by increasing muscle activity in the hips, thighs, and calves. As your body posture improves and your foot structure is corrected, underutilized muscles are activated, and the inner muscles are trained, leading to improved exercise efficiency. The kit also helps stimulate fat metabolism through the increased muscle movement it promotes, resulting in decreased body fat mass and a shaping effect on the body. By wearing the kit, you can benefit from a range of positive physical changes.


Losing a small amount of height as you age is a normal part of the aging process. This is often due to the flattening of the discs between the vertebrae in the spine, the loss of muscle mass, and the narrowing of the spaces between joints. However, significant height loss can be a sign of osteoporosis, according to rheumatologists.
"A lot of people are under the misconception that losing height is normal," Dr. Abelson says. "Certainly losing a half-inch or three-quarters of an inch may be normal, but I've seen patients who say they've lost two, three, or four inches in height, and they thought that was a natural consequence of aging. But it's not."
How To Use BODYFEET Kit And The Differences Between Level 1 and 2



How to use

LEVEL 1 Kit

Available in two colours - White and Nude.
Strength Level is 40%.

This is suitable for anyone who:

1. Wants to prevent Crammed Toes, Overlapping Toes, Hammer Toes, Flat Feet, Bunions and Plantar Fasciitis.

2. Suffer Legs Alignment Problem such as False Curvature (Genu Recurvatum), Bow-Legged (Genu Varum) or Knock-Kneed (Genu Valgum).

3. Experienced Lower Back, Hips, Knees and Ankle Pain caused by incorrect posture.

As the strength level is low, it will put slight pressure on your toes, spacing your toes and slowly shift your body weight backwards to correct your body posture. It is suitable for daily use with or without shoes, while you carry out your daily activities at home or work. You can wear Level 1 kit with shoes which are wide enough for your toes to spread.

You will feel a slight pressure acting on your toes which is perfectly fine as the kit is balancing your body starting from stimulating the feet.

You need to wear it at least 4-6 hours daily and for at least one month to see the effect. It is most effective while you are standing or walking.

*It is advisable to wear it for only 30 minutes during the first few days and gradually increase the length of each session accordingly for your feet and toes to adapt to the kit.

After you have completed this first level, you will move to the next Level 2 kit to advance your BODYFEET alignment treatment.

LEVEL 2 Kit

Available in two colours - Black and Pink.
Strength Level is 80%.

This is suitable for anyone who has completed Level 1 or you are the avid fitness enthusiast looking for solutions to increase your workout efficiency. Level 2 Kit is suitable for active use. You can wear it to improve body posture during your Yoga or Gym workout. As the strength level is higher, it will put more pressure on your toes and feet, shifting your body weight and maintaining the correct posture.

At first you may feel some soreness in your lower leg muscles just like all exercise, that's normal. By wearing the kit, metabolism increases due to an increase in muscle activity on your hip, thighs, and calves. When your body posture improved with your foot structure progressively corrected, the muscles that you do not use will be activated. The inner muscles are trained and exercise efficiency is improved.

Level 2 Kit is also suitable for anyone who:

1. Wants to prevent Metatarsalgia and Achilles Tendonitis.

2. Intends to reduce the impact on feet due to intense physical activities.

You need to wear the Level 2 kit for at least 2-4 hours daily but not more than 5 hours a day and at least one month to see the effect. It is most effective while you are doing exercise, standing, or walking. 

Important Notes

If you are unsure which Level to get, it is better to get the Full Kit Pack which includes Level 1 and Level 2 kits or you can start with Level 1 kit to try out first.

All product pictures shown are for illustration purposes only. The colour and length of the actual product may slightly vary due to product enhancement and screen resolution.

We recommend replacing the kit regularly (Level 1 and Level 2) after using each kit for more than 60 days (approximately 2 months lifetime for each kit) to ensure the Strength Level is the same as new. Your feet and toes are an important part of your body that supports your entire weight. Due to the wear and tear influences during treatment, the kit do not last indefinitely. After the completion of full treatment, the treatment kit can be used whenever it is needed or to relieve foot pain/posture problems.
Materials

Our BODYFEET kit is made with soft, healthcare grade silicone that is BPA- and latex-free, making it safe for daily use without the risk of allergic reactions. This proven technology has been approved by orthopedics experts. You can wear it with confidence, knowing it will not harm your body or feet.
Shipping

 

BODYFEET Co. is proud to offer FREE Worldwide Shipping (EXCLUDING UAE) on all orders over US$35. We pay for all international shipping. Take advantage of this FREE Shipping Offer now!

 
Return policy

We love our BODYFEET products and are confident you will too! That's why we're offering a 30-Day, Risk-Free Trial. If you're not in love with your results, send the kit back and we'll give you a full refund.
View full details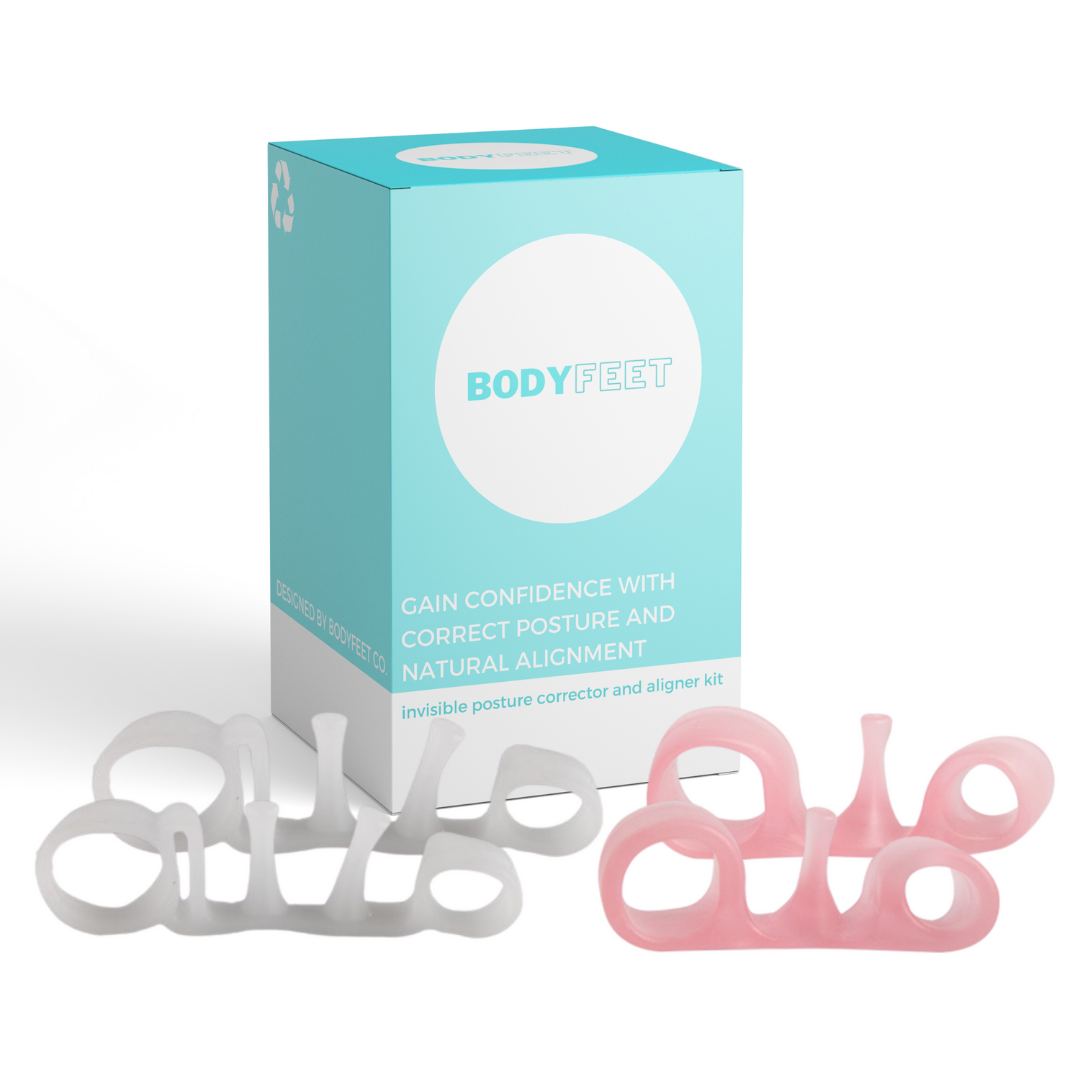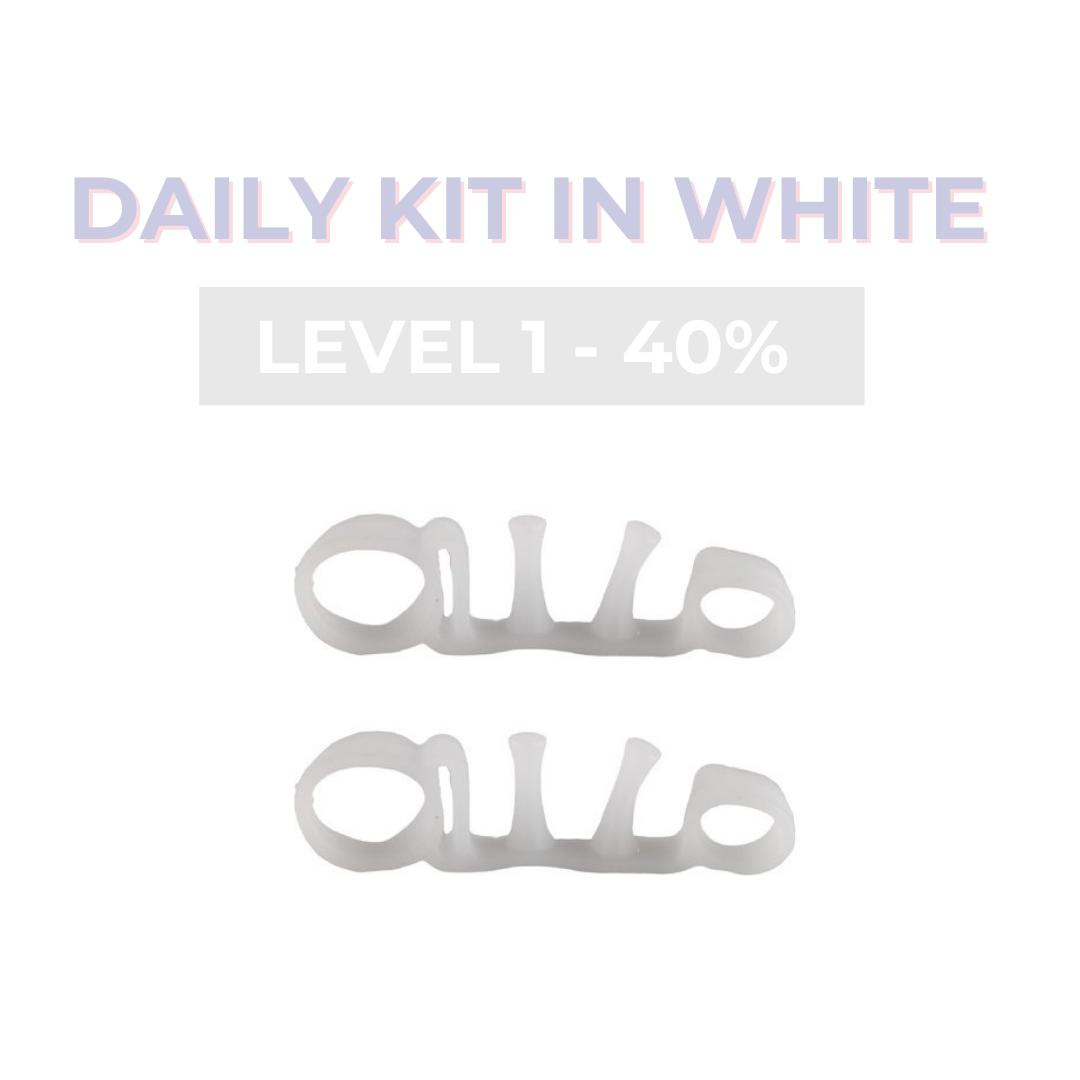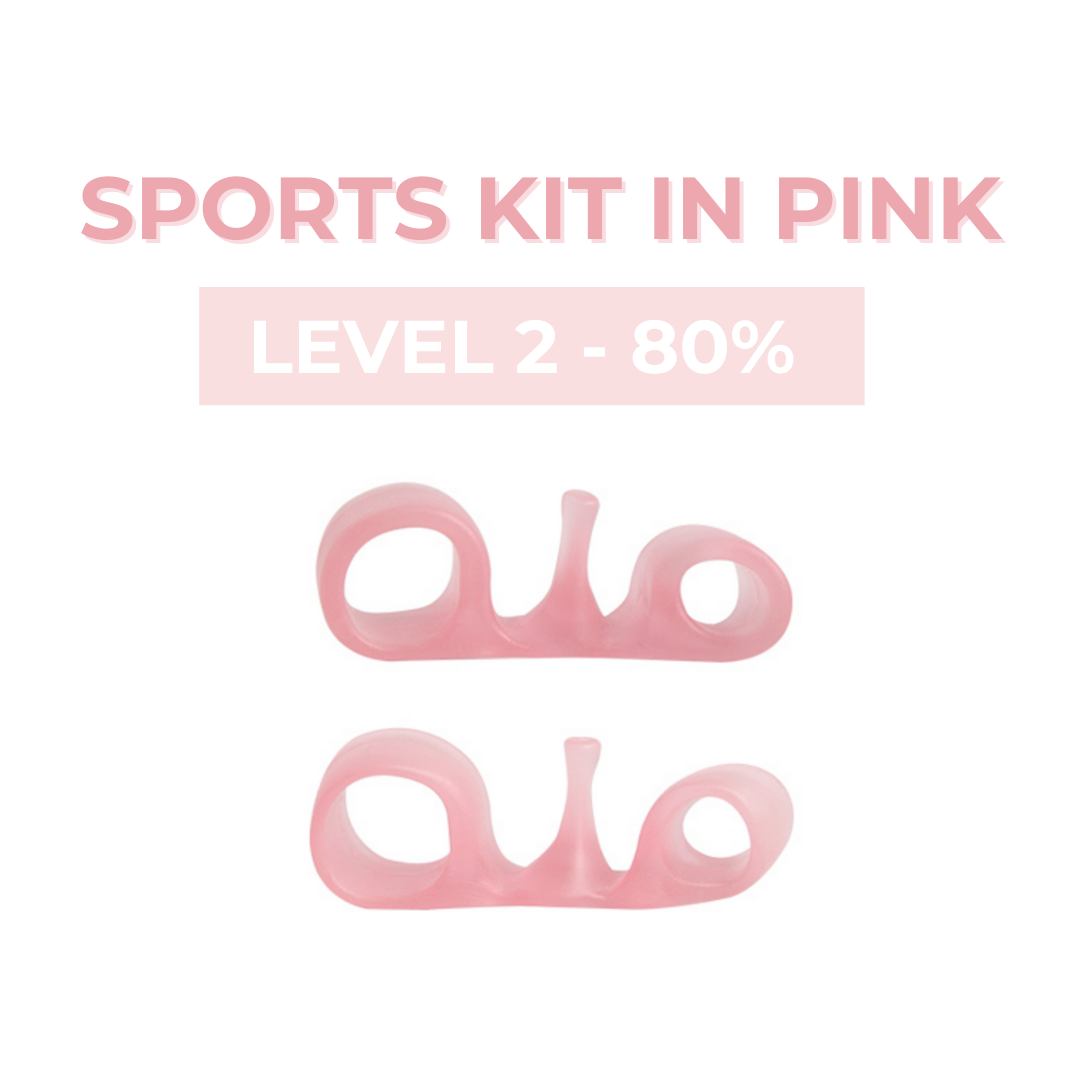 What Makes BODYFEET Special
Find out why you should choose BODYFEET Aligners Kit instead of other toe spacers.
| | | OTHERS |
| --- | --- | --- |
| | | |
| --- | --- | --- |
| Toes Alignment | | |
| Correct Posture | | |
| Improve Balancing | | |
| Alleviate Foot Problems | | |
| Body Shaping | | |
Add-ons to enhance your foot wellness
Vendor:

Regular price

From

$29.00 USD

Sale price

From

$29.00 USD

Regular price

$55.00 USD

Unit price

per

Vendor:

Regular price

From

$29.00 USD

Sale price

From

$29.00 USD

Regular price

$65.00 USD

Unit price

per

Vendor:

Sale price

$9.99 USD

Regular price

$18.00 USD

Unit price

per